Maryland dog bite victim advocacy ::
DogsBite.org, a national dog bite victims' group, submitted an amicus brief on behalf of the young mauling victim in Tracey v. Solesky, which helped move the Court of Appeals to modify Maryland common law and attach strict liability when a pit bull terrier attacks a person. This web page is designed to help citizens and groups take action to support the high court's ruling.
---
How to stay informed
Sign up for alerts!
Stay informed about the current and upcoming legislative attempts to undo the integrity of the high court's ruling.
The 911 call
Watch the 911 call at the center of the high court decision, Tracey v. Solesky.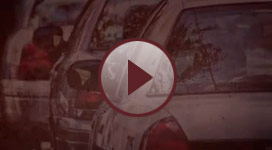 What you can do
Contact key legislators
Contact legislators and voice support for the Court's decision, otherwise victims may lose the Court's remedy, which holds pit bull owners and landlords financially responsible for the injuries these dogs cause.
Support materials
Download key support and educational materials and attach them to emails directed at Maryland legislators.
Additional information
Maryland news & statistics
View dog bite statistics and related news from the State of Maryland.
National news & statistics
View national dog bite statistics and related news across the U.S.
About us
DogsBite.org is a national dog bite victims' group dedicated to reducing serious dog attacks. Through our work, we hope to protect both people and pets from future attacks. Our website, www.dogsbite.org, was launched in October 2007 and contains a wide collection of data to help policymakers and citizens learn about dangerous dogs. Our research focuses on pit bull type dogs. Due to selective breeding practices that emphasize aggression and tenacity, this class of dogs negatively impacts communities the most. Our website hosts important dog bite studies, U.S. dog bite fatalities and other key bibliographies. In the Legislating Dogs portion of our site, we offer examples of breed-specific laws (state-by-state) and documentation of the constitutionality of these laws. The Victim Realities section provides a glance into the unforgettable histories victims leave behind and much more.