Vicious & dangerous dog hearings ::
A collection of vicious and dangerous dog hearings captured on video or audio. These quasi-judicial hearings often attempt to be less formal, not requiring participants to have an attorney.
Featured videos & audio

Vicious and Dangerous Dogs Unleashed
San Francisco | 44m
Second installment in a series of three videos by Black Summers Productions, LLC.
This installment focuses on the failure of San Francisco Animal Care and Control to properly manage the risks posed by vicious and dangerous dogs in the city. It features parts of hearings and a presentation by John Denny, a veteran Vicious and Dangerous Dog hearing officer.
---

Dangerous Dog Hearing
February 1, 2022
San Francisco, California | 1:51m
On January 16, 2022, a security officer at the central
San Francisco Public Library was attacked
by an alleged "service" pit bull while attempting to check on the welfare of the dog's owner, who was unresponsive. Part of the vicious attack was captured on video and is included.

Dangerous Dog Hearing
May 15, 2019
San Bernardino, California | 28m
On January 16, 2019, Lana Bergman was
killed by four pit bulls
belonging to two "guests" on her property. After the attack, the owners fought to keep their pit bulls. In May, a Dangerous Dog determination hearing was held. The owners of the pit bulls failed to appear at the hearing.
---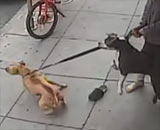 Dangerous Dog Hearing
August 29, 2019
San Francisco, California | 1:04m
On July 18, 2019, a man was walking his small dog on a leash when two pit bulls, "Cochise" and "Lakota," broke free from their leash, chased the victims into oncoming traffic and attacked them. Dramatic footage of the violent attack is included, which begins at 2:49 minutes.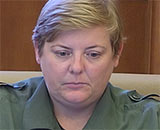 Dangerous Dog Hearing
March 10, 2016
San Francisco, California | 1:17m
"Tank" the pit bull attacked a trainer at a dog training facility. The hearing that resulted is unusual, as it was brought by San Francisco Animal Care and Control on behalf of the dog, not the human victim.
View the attack footage
and a
partial transcript
of this hearing.
Criminal defense attorneys
When defense attorneys are involved, the tone of these administrative hearings shifts dramatically. Defense attorneys do not always help the owner of the accused dog win their case either.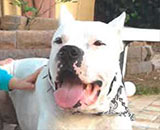 Dangerous Dog Hearing
May 28, 2019
Los Angeles, California | 24mins
In January 2019, an unaltered Dogo argentino named "Archi" escaped its owner's property and brutally attacked a man jogging on Amestoy Avenue. During this appeal hearing, the commissioners tell the defense attorney a number of times, "You are not helping your case."

Dangerous Dog Hearing
March 18, 2016
Miami-Dade, Florida | 30 mins
In 2015, three family dogs brutally killed
Carmen Reigada
, 91. The perpetrators were an American bulldog-mix named "Bear," a Rhodesian ridgeback-mix and a Labrador-mix. Reigada's great-grandson owned the dogs and appealed the county's ruling to euthanize the dogs.
Additional hearings
City council meetings
Vicious dog hearings
Criminal trial hearings