Texas dog bite victims' advocacy ::
Serious and fatal attacks inflicted by well-documented dangerous dog breeds, primarily pit bulls, are a frequent occurrence in Texas. To help inform more Texas citizens about this issue, DogsBite.org has created a Texas victims' advocacy email list. Please sign up to stay informed.
Stay informed
Join the Texas email list
Keep in touch with the Texas dog bite victims' advocacy network.
Texas Fatal Dog Attacks
Read about the devastating fatal pit bull mauling of Tanner Smith. He was attacked by two pit bulls while visiting the dog owner's home with his mother near Vidor.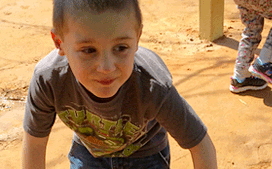 The pit bulls had previously attacked two times, but no criminal charges were filed against the owner after the boy's death.
Key statistics
Texas statistics
View Texas dog bite fatality statistics, Texas dog bite studies and key blog posts.
National statistics
View national annual dog bite fatality statistics from DogsBite.org.
---

View the DogsBite.org Google State Map:
Texas Fatal Pit Bull Attacks
.
About us
DogsBite.org is a public education website about dangerous dog breeds, chiefly pit bulls. We are the primary 501(c)(3) nonprofit organization dedicated to putting the safety of humans before dogs and the principal source of information on this topic that is not owned, controlled, or funded by dog breeders, dog advocacy, veterinarian or animal welfare groups. We do not receive government or corporate funding; we rely on donations from the public and our supporters -- people like you.